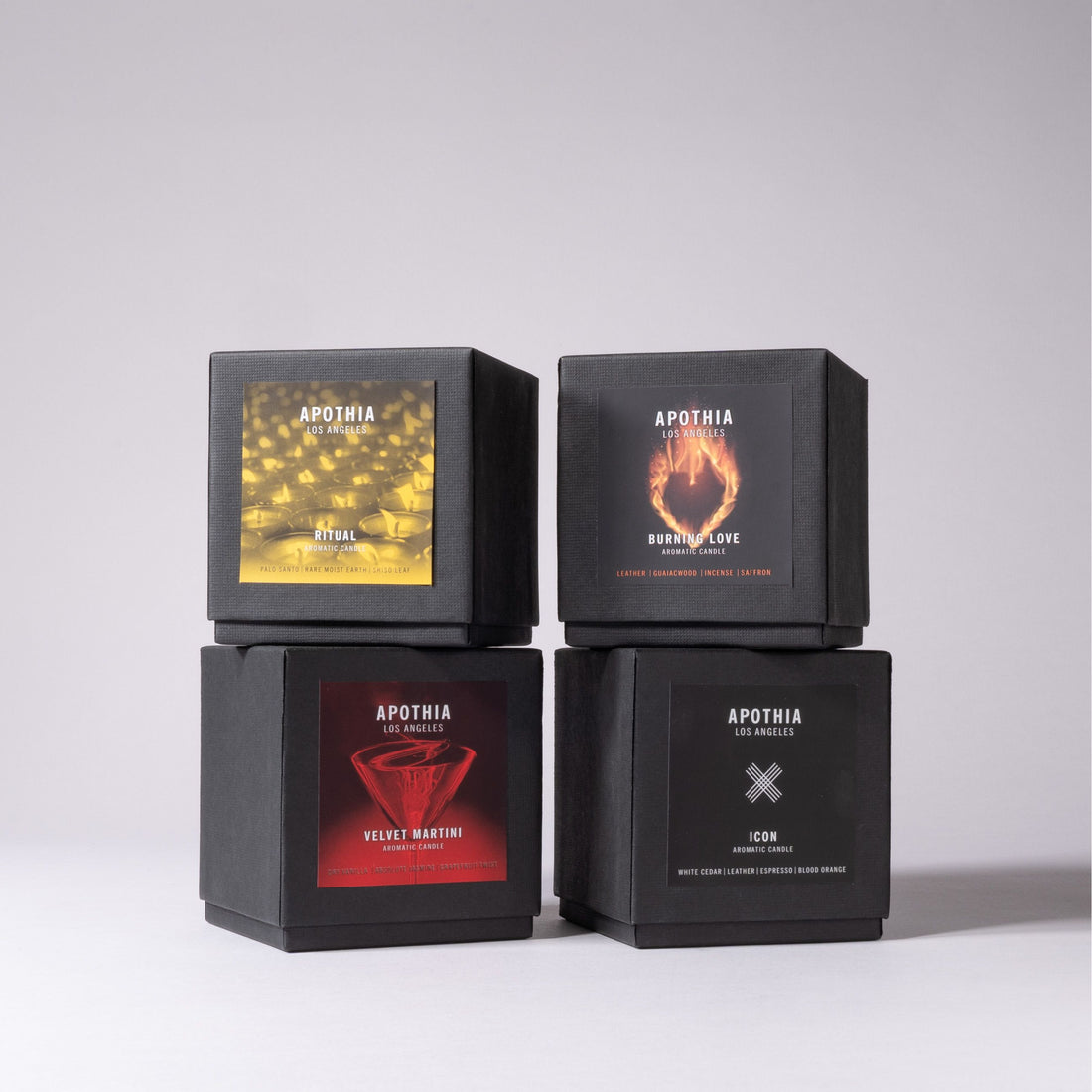 Limited Edition Candle Bundle
RITUAL | A plentiful scent of Palo Santo, Sage, Vetiver, Frankincense, and Shiso Leaf.
ICON | A combination of Roasted Espresso Beans, Florentine Leather, White Cedar and Tarocco Blood Orange
BURNING LOVE | Soft Leather, Warm Guaiac Wood, Sweet Incense, Saffron.
VELVET MARTINI | Icy cold, very dry Vanilla Martini spiked with Absolute Jasmine and a Twist of Grapefruit.
MADE IN LOS ANGELES
Sulfate-Free, Phthalates-Free, Paraben-Free, Cruelty-Free, and Non-Toxic.

SUGGESTED USE
Remove silver bead, trim wick to 1/4 inch and burn until entire top surface is liquified.

60 Hour Burn Time
227g | 8oz
Our signature ILLUMINATING CREAM candles are a unique soy wax blend creating a creamy luxurious balm of solid fragrance.
Best smelling candles
Love the smell and they burn so nice. Have given for gifts also. Would order again.
All fabulous, but not all equal
While the Ritual & Burning Love candles are worth experiencing, I did need to burn both to fill the room with scent vs a single Icon candle. The Velvet Martini is also delicious, but the notes of vanilla made it feel a bit too grandma's cookies for me, so I have yet to test its scent strength.
Overall, would still definitely recommend purchasing once to see if any other scents strike a chord, but I likely would purchase a few more Icon candles before repurchasing the set.
Amazing
At this point I have every single candle and these are four of my favorites! That is why I out them on subscription!
Beautiful!
I love these candles & they make a wonderful gift!