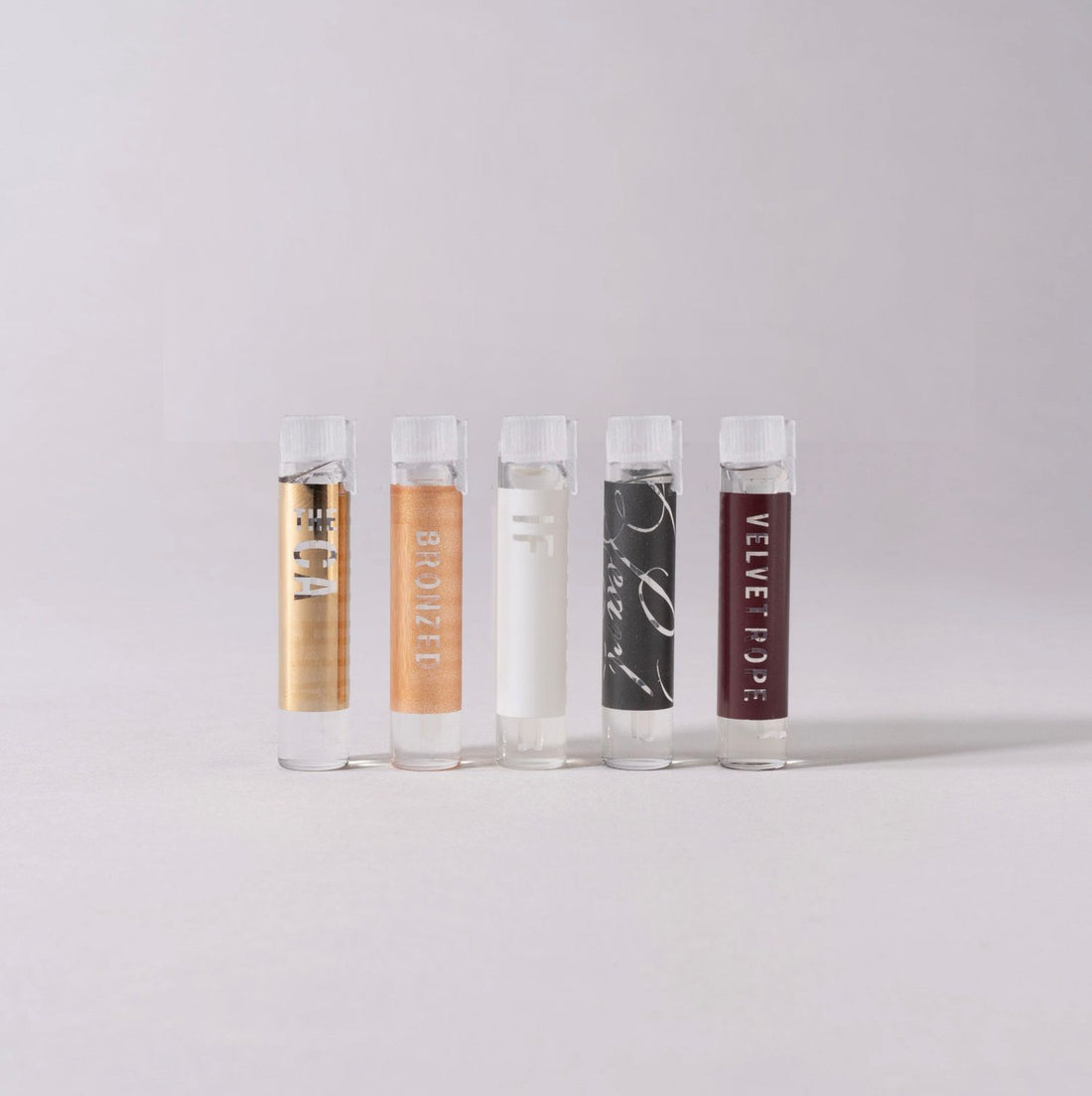 Pure Fragrance Oil | Discovery Set
IF
A Dazzling Bouquet of White Flowers, IF blooms with top notes of Zesty Grapefruit and Sparkling Yuzu, ending in a deep romantic dry down.
Top | Bergamot, Yuzu, Cassis and Grapefruit
Mid | Tuberose Pikaki Flower, Jasmine and White Gardenia
Base | Pacific Musk, African Musk and Moss Accord 
THE CALIFORNIA
The fresh energy of citrus and vibrant green leaves brightens perfectly balanced exotic flowers, enhanced with deep seductive woods and provocative musk.
Top | Zesty Grapefruit, Mandarin Flower, Hints of Rhubarb
Mid | Airy Jasmine, Sweet Pea, Sunny Gardenia
Base | Green Tuberose, Sandalwood, Musk
BRONZED
Burst of Orange Flowers freshened with Petitgrain, Bergamot, and Jasmine.
Top | Pink Grapefruit, Blood Orange, Italian Bergamot, Petitgrain
Mid | Orange Blossom, Neroli, Night Blooming Jasmine
Base | Caribbean Musk
VELVET ROPE
An icy, dry vanilla martini spiked with absolute jasmine and a twist of grapefruit. Pure white musk heats up the background of this super sexy scent. Experience the intoxicating moment.
Top | Italian Juniper berry and Grapefruit zest
Mid | Jasmine Absolute, Green Rose and Cypress Leaves
Base | Pacific Vanilla Absolute, White Musk and Patchouli Musk
PEARL
Pearl begins with Shimmering Shiso Leaf and Plum Blossom wrapped around Delicate White Peony and Japanese Honeysuckle, finishing with Warm Amber with touches of Ivory Musk and Earthy Orris.
Top | Shiso Leaf, Ume Plum Blossom and Yuzu Lemon
Mid | White Peonies, Pink Jasmine and Sweet Japanese Honeysuckle
Base | Powdery Orris, Warm Golden Amber and Ivory Musk Accord 
Our 5 Award Winning fragrances bundled into a sampling pack!
MADE IN LOS ANGELES
Sulfate-Free, Phthalates-Free, Paraben-Free, Cruelty-Free, and Non-Toxic.

1ml
Redeem 15% off your next full size fragrance purchase within 3 weeks. Once your sample purchase is complete, you will receive a unique 15% off code.

The Roll-On Pure Fragrance Oil is an alcohol-free formula that can be applied anywhere on the body for subtle fragrance.
Perfume oil collection
I really like the oils in this collection. Some are fresh & summery, others more warm and woodsy. Nice variety!
I love Apothia
I bought Apothia scents back in the '90s; I loved them then and am very happy with Pearl, most recent purchase.
Delicious!!
Every single one if them is my favorite!
Beautiful fragrances💝
Apothia Samples
I really like the samples I've purchased! I hope to buy more very soon!
Awesome
The fragrance is long lasting and awesome !!!